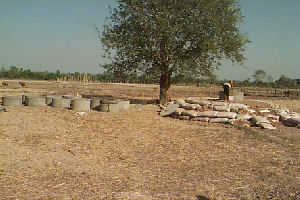 The MiVAC Trust, in conjunction with AusAID, undertook a Village Development Project in Cambodia. Kampi Village is a subsistence fishing and rice farming village comprised of a total of 124 families located in Sombok Commune, Kratie District, Kratie. It is situated along the Mekong River approximately 230 km north from Phnom Penh.
Kratie was the scene of some of the heaviest fighting throughout the various foreign incursions and civil wars fought in Cambodia. The area was heavily bombed by US during that bombing campaign. In addition to the UXOs the surrounding areas were heavily landmined. Over the past few years there has been a major de-mining/UXO effort in the zone, but the number of limbless land mine victims to be seen in the area is testimony to the incident of landmine detonations that have occurred.
For this project, funding was provided by AusAID Phnom Penh under the Community Development Program (CDF). MiVAC's contribution included the project coordination and supervision by self funded volunteers, along with funding to construct 9 wells.
The project was conducted by The Cambodian Rural Development Team (CRDT): a group of young Cambodians formed by Brendan Boucher. Brendan is a former member of Commando Regt. and a MiVAC member. CDRT was implemented and coordinated initially by Brendan, and Alex Diment (CRDT); later, Mike Roberts assisted.
The project achievements exceeded the initial scope and included the following:
Agricultural Training and Supply
26 fish ponds dug and stocked with fingerlings
Pigs for 41 families (9 breeding pigs)
Ducks for 75 families
Chickens for 29 families
Vegetable seed distribution for all 135 families
Mushroom production for 15 families
5 Plots of System Rice Intensification (SRI).
Water and Sanitation
9 ring wells
60 toilets
15 rain water collectors
5 Biodigesters
Training, on
92 hours of varied agricultural training provided for all 135 villagers (and others from neighbouring villages) including separate courses on:

Pig, chicken, and duck raising
Fish raising and pond maintenance
Vegetable production
Mushroom production
System of Rice Intensification (SRI)
Water and sanitation
Biodigester technology

Training Village Development Committee (VDC) on their roles, responsibility, simple management tools and accounting skills
Study tour to other villages at which CRDT have conducted similar program for 15 VDC and villagers
Results and benefits to target population – the direct beneficiaries – the 135 families in Kampi  Village:
Reduced risk of UXO and mine injury through reduced need for hunting and foraging.
Year round public access to clean water
Reduced incidence of sickness and disease through the provision of clean water and the supply and use of toilets.
Improved social conditions within Kampi village, due to equal distribution of benefits from community development
Increased supply of protein, due to ability to raise fish and livestock and grow vegetables for family consumption
Improved long-term food security through agricultural, aquaculture and small livestock supply and village training
Reduced village malnutrition as a result of increased quality and quantity of food
Increase village skills through building toilets, wells, water collectors and full participation with other activities
Improve agricultural skills and increase household incomes through sale of excess mushrooms, fish, livestock and vegetables
A reduction in the threats to the Irrawaddy dolphin.
Build VDC capacity for continuing community development, with share of revenue from dolphin tourism
A sense of development for all villagers
The project was part of a larger program with the immediate objective of providing the impoverished communities living along the Mekong with a healthier village environment and a more diverse and sustainable local economy.
The broader aim of the program was to reduce the dependence on the diminishing fish stocks of the Mekong, and among other things, assist in the conservation of the critically endangered Mekong freshwater (Irrawaddy) dolphin. Historically, this village depended entirely on fishing for its livelihood; the use of gill nets and the competition with the dolphins for the diminishing fish stocks have reduced the number of this species to around 80.
This project demonstrated that successful conservation programs must consider the local human inhabitants and provide them the basic skills and means to develop alternative and sustainable local economies, rather than by introducing a law that bans the communities from the  taking of forest or wildlife, the only means of a livelihood that they traditionally have had. A consequence of life in Kampi village is that such a law is un-enforced and un-enforceable.
The program was very professionally delivered by the young Cambodians of the CRDT (male and female) who lived and worked with the community throughout the project duration. CRDT uses the "help them to help themselves" method.  Apart from the initial supply of some materials and livestock, all work is done by the villagers with team members providing training  and guidance. The community has wholeheartedly accepted the opportunity to learn new skills and are now well on the way to a much healthier village environment and more certain food supply, along with the benefits to the community arising from the incomes provided by the surpluses now being produced.
These communities are re-establishing themselves after years of conflict, and uncertainty. They are short on information and the means to break the cycle of poverty; however, once shown and given the basic means and tools, they get on with it themselves, with great enthusiasm. These small village development projects tend to have a multiplying effect.
What the people of Kampi have learned and implemented with our assistance will spread to other small communities when they see the change and improved livelihoods of Kampi. What these people get from this project will be a major factor in ensuring a much brighter future for them all in that region.