Laos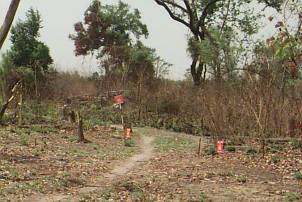 Recent activities in Lao PDR have focused on funding the training of females in landmine and UXO clearance. This process enables trained women to find employment in their field of expertise. MiVAC has also partnered with Phoenix Clearance Ltd to clear two minefields near Ban Xai in Xieng Khouang province.
Recent clearance of cluster munitions from a playground at Ko Hai and a range of UXO's from a neighbouring rice paddy also uncovered that villagers often require additional development assistance and future projects will strive to address the dual goals of UXO clearance and victim assistance.
Cambodia
So far we have provided materials for a fence to be built around the perimeter of a school, which was bordered by a minefield. This enables the children to play safely without straying into dangerous areas.
We have provided tools to a workshop and built a waste disposal storage area at the Sunrise Children's Village. MiVAC members, with the Ranelagh Community Group, raised enough money for 12 wheelchairs to be built by a Cambodian landmine survivor. He then distributed these wheelchairs to other amputees in the Siem Reap Province.
Sri Lanka
A donation from the Royal Commonwealth Society (Tas) has been forwarded with an equal amount from MiVAC to assist with the re-building of a school after a demining project in the area had been completed.
Vietnam
MiVAC partnered with the East Meets West Foundation to build a causeway over a tributary of the Dak Bla River near Kon Tum to provide all year access to markets and medical facilities for local villagers and the six orphanages in the vicinity.